Route 116 Hinesburg Corridor Study
Route 116 through Hinesburg has seen substantial changes in recent years, including land development focused in the village growth center, increases in through-traffic volumes due to growth and development south of the village, and several intersection improvement projects to address safety. This corridor study will be a comprehensive evaluation of Route 116 through Hinesburg's growth center, and will include all modes of transportation. It will examine the opportunities for accommodating planned village growth and addressing current traffic congestion through enhancements in street connectivity. It will also seek opportunities to maximize alternative modes of transportation, and provide more efficient alternative routes for local circulation.
SEE BELOW FOR MORE INFORMATION ON:
STUDY AREA »
PUBLIC PARTICIPATION »
DOCUMENTS »
COMMITTEE »
CONTACT »
---
STUDY AREA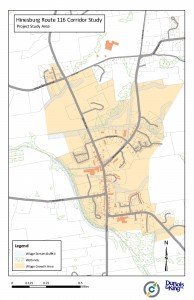 ---
PUBLIC PARTICIPATION
PUBLIC MEETINGS
Public Meeting # 1 – September 24, 2013:
---
DOCUMENTS
---
COMMITTEES
ADVISORY COMMITTEE: 
Rob Bast
Tyler Billingsley
Schuyler Jackson
Rolf Kielman
Frank Koss – Police Chief
Andrea Morgante – Selectboard
Dennis Place – Development Review Board
John Roos
Cathy Ryan
---
CONTACT
For more information, please contact Christine Forde, CCRPC Senior Transportation Planner, at (802) 846-4490 x *13.