Advanced Traffic Monitoring System
The Chittenden County Regional Planning Commission (CCRPC) and Vermont Agency of Transportation (VTrans) will implement corridor level Bluetooth (BT) monitoring devices deployment on five corridors in Chittenden County to establish real time traffic monitoring and management systems information which will be utilized by the VTrans Advanced Transportation Management System (ATMS) and Traveler Information System (TIS) for 511 through the State Traffic Operations Center (TOC). This BT monitoring deployment will provide the opportunity to deliver real time traffic monitoring and communication (through the VTrans TOC, ATMS, and TIS) including travel times, average travel speeds, start of congestion, and crash avoidance areas – enhancing safety, mobility, reducing congestion and congestion-related vehicle emissions in the region.
---
Study Corridors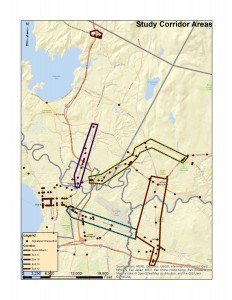 ---
Pilot Corridor Implementation
Bluetooth sensors were installed at six intersections along the pilot corridor (US 2/Williston Road from University Heights to Industrial Avenue) on June 14th, 2017. Click the link below to view travel times and speed data along the pilot corridor.
---
Working Group
A working group will be created to oversee and direct the development of project requirements, specifications and development and deployment plans. This group will include, but is not limited to, staff from the CCRPC, VTrans, FHWA-VT division office and representatives from participating municipalities.
Systems Engineering Workshop: May 23, 2016, 10:00am
CCRPC Office (110 West Canal Street, Suite 202, Winooski)
Project Kick-Off Meeting: April 4, 2016, 2:00pm
CCRPC Office (110 West Canal Street, Suite 202, Winooski)
---
Questions & Contact
For more information, please contact Sai Sarepalli: (802) 846-4490 ext. *16