Railyard Enterprise Project
The purpose of the Railyard Enterprise Project is to develop a network of multimodal transportation infrastructure improvements in the Pine Street and Battery Street area, which incorporate the principles of Complete Streets, and to: 1) support economic development in the area; 2) improve Livability of the surrounding neighborhoods; 3) enhance multimodal travel connectivity between the Pine Street corridor and Battery Street in the Burlington Waterfront South area; and 4) improve intermodal connections to the Burlington Railyard, a National Highway System (NHS)-designated intermodal facility.
---
Project Area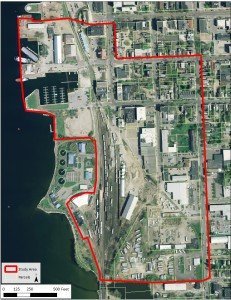 ---
rep PHAse I: Scoping/PEL
This phase of the Railyard Enterprise Project has been completed. An archive of the Public Process, including all meetings and documents, can be found here.
The final REP Scoping/PEL Report and Appendices can be found below:
---
rep phase II: Supplemental scoping
Moving forward with REP Supplemental Scoping
During the finalization of the REP Scoping/PEL report and in reviewing the public and stakeholder comment, the City and VTrans reflected on some of the goals for the project:
Timeliness: Stakeholders expressed a desire to see this project developed quickly to reduce traffic in the King St. and Maple St. neighborhoods. It is also recognized that the Federal Environmental Permitting (NEPA) process might take years to complete due to various challenges in the REP project area.
Local control: Several residents, property owners, and City Councilors were concerned with various alternatives that had significant impacts to private buildings, and they wanted a process that would give full consideration to alternatives that minimize those impacts.
Feasibility: We received many public comments suggesting the project be modest in scale, fit into the context of the area and be able to address issues through innovative design.  In addition, advancing the Pine to Battery connection first and then evaluating the grid streets concept (included in other Phase 2 Alternatives) at a later stage may make the effort more manageable.
To accomplish these goals, the City, VTrans and the CCRPC agreed to move forward with further evaluation of the most simple of the REP Phase 2 Alternatives – Alternative 1B – to explore the feasibility of implementing this alternative with state and local funds only, thus avoiding the federal permitting process. The Burlington City Council passed a resolution November 28, 2016 to allow for the REP supplemental work to move forward.
---
rep phase ii: Supplemental scoping steering Committee & Public Process
REP Supplemental Scoping Meeting # 2: May 30, 2018 – 6:00pm – Burlington DPW (645 Pine Street)
REP Supplemental Scoping Meeting # 1: January 5, 2017 – 6:00pm – Burlington DPW (645 Pine Street)
For all previous Steering Committee and other public meetings for the Railyard Enterprise Project, visit the public process archive.
---
 Documents
---
Contact
For more information, please contact Eleni Churchill, CCRPC Transportation Program Manager, at (802) 846-4490 x *11.