VT 2A Scoping Study
Following Governor Shumlin's announcement in May 2011 that the Circumferential (Circ) Highway as originally conceived will not be built, a CIRC Alternatives Task Force was formed to identify alternative projects and planning activities to address the region's transportation issues. One of the major planning activities undertaken was the Williston-Essex Network Transportation Study (WENTS). The focus of the WENTS Project was to develop multimodal strategies that enhance corridor mobility and safety, improve access to major employment and retail centers, and support land use goals of the municipalities of Williston, Essex, and Essex Junction.
The WENTS' findings and recommendations, which were formally adopted by the CIRC Alternatives Task Force in January of 2013, included capacity improvements at the VT2A/Industrial Avenue intersection in Williston.
The VT2A Scoping Study project will further investigate and refine transportation alternatives that address existing and projected traffic congestion, enhance safety for all users, and improve bike-pedestrian connections at the intersection of VT2A and Industrial Avenue/Mountain View Road and along the VT2A corridor between Industrial Avenue/Mountain View Road and River Cove Road to coordinate with a project currently in design in that location.
SEE BELOW FOR MORE INFORMATION ON:
STUDY AREA »
PUBLIC PARTICIPATION »
DOCUMENTS »
COMMITTEES »
CONTACT »
---
Study Area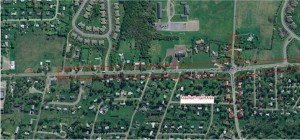 ---
Public Participation
Public Meeting # 1 – July 18, 2013
Public Meeting # 2 – Alternatives Presentation – September 25, 2013
Public Meeting # 3 – Planning Commission Meeting – October 1, 2013
Public Meeting # 4 – Selectboard Meeting – October 21, 2013
---
Documents
---
Committees
A Steering Committee was formed to provide general oversight and policy direction for this project.
The committee is comprised of the following representatives:
Bruce Hoar, Director of Public Works, Williston

Lisa Sheltra, Assistant Director of Public Works, Williston

Ken Belliveau, Director of Planning and Zoning, Williston

Christine Forde, CCRPC

Sai Sarapali, CCRPC
---
Contact
For more information, please contact Christine Forde, CCRPC Senior Transportation Planner, at (802) 846-4490 x *13.