Jericho Corners to Riverside Multi-Use Path
latest news
Local Concerns Meeting: February 21, 7:00pm (at the Jericho Planning Commission Meeting) | More Information »
Jericho has been working for some time to improve bicycle and pedestrian connections between key designations throughout the town. One area of interest is to connect the villages of Jericho Corners with the Riverside (also known as "The Flats"). Previous studies considered two options for this connection — a 10-foot-wide shared use path along the southern side of VT 15, and a cross country path that generally follows an abandoned rail bed. This study will further evaluate and refine the previous options and help Jericho to select a preferred alternative.
SEE BELOW FOR MORE INFORMATION ON:
STUDY AREA »
PUBLIC PARTICIPATION »
DOCUMENTS »
CONTACT »
---
STUDY AREA
Click image to enlarge, or view a PDF version here.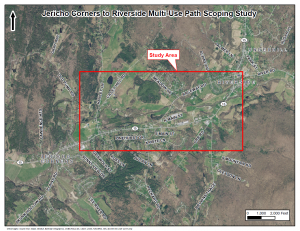 ---
Public Participation
All opportunities to participate will be shared here.
Local Concerns Meeting: February 21, 7:00pm (at the Jericho Planning Commission Meeting) | More Information »
---
DOCUMENTS
---
CONTACT
For more information, please contact Christine Forde, CCRPC Senior Transportation Planner: (802) 846-4490 x113