Winooski Weaver Street Pop-Up
latest news
Project Update (7/16): Based on community feedback and data collected as part of the pilot program, Winooski is reviewing a number of items for future potential multimodal improvements and further community discussion along Weaver Street. | Learn More »
City of Winooski Press Release (5/29): Weaver Street Pop-Up Demonstration June 1-10 | Learn More »
Between June 1st – 10th, 2018, the City of Winooski Department of Public Works installed a temporary two-way protected bike lane and other traffic calming improvements along the west side of Weaver St. running between Maple St. and Tigan St. (with the exception of the block between Stevens St. and St. Peter St.) in partnership with Local Motion, the Chittenden County Regional Planning Commission, and VHB. The goal of the interactive pop-up project was to provide all users with the opportunity to experience a safer and more inclusive travel route which may help the City consider multimodal solutions for Weaver Street.
During the Winooski Transportation Master Plan and the Winooski Main Street Revitalization processes, it was determined via community input that Weaver Street is preferred over Main Street for a protected bicycle facility. This 10-day demonstration was an opportunity for residents to try out a possible design and provide the City with comprehensive project feedback.
SEE BELOW FOR MORE INFORMATION ON:
POP-UP CONCEPT & MAP »
PUBLIC PARTICIPATION »
DOCUMENTS »
NEWS »
CONTACT »
---
Pop-up Concept & MAP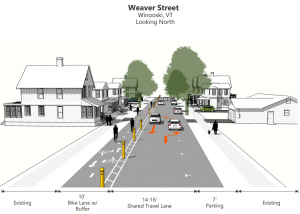 View the full pop-up concept »

View the full map (4 pages) »
BACK TO TOP ⇑
---
Public Participation
Survey to Collect Feedback
Once users take part in this demonstration over the course of 10 days (June 1-10), they are encouraged to take a survey to provide key feedback on the efficacy and safety of the potential changes.
We encourage all participants and users (drivers, bikers, pedestrians, etc.) to submit their feedback via this form. Feedback forms and project information sheets can be picked up at Winooski City Hall (27 West Allen St.) M – F, 7:30 AM – 4:30 PM.
Weaver Street Pop-Up Project Introduction: May 22, 6:00pm
The City of Winooski hosted an informational community meeting and project introduction so the residents of Weaver Street and other interested parties had an opportunity to learn more about the project before it begins. | View the Presentation » | Learn More »
---
Documents
Traffic Volumes
Traffic Speeds
---
NEWS
(7/16) Based on community feedback and data collected as part of the pilot program, Winooski is reviewing a number of items for future potential multimodal improvements and further community discussion along Weaver Street. | Learn More »
(6/1) The Weaver Street Pop-Up Project is now available for use!

This project is open to all. Please use caution when using this temporary project – remember to drive safe, wear your bike helmets, and look both ways when using crosswalks.
Feedback submissions: We encourage all participants and users (drivers, bikers, pedestrians, etc.) to submit their feedback via this form. Feedback forms and project information sheets can be picked up at Winooski City Hall (27 West Allen St.) M – F, 7:30 AM – 4:30 PM.

(5/29) Press Release: Weaver Street Pop-Up Demonstration »
---
Contact
Questions about the Weaver Street Pop-up Demonstration Project can be directed to Jon Rauscher, Director of Winooski Public Works: jrauscher@winooskivt.org / 802 655 6410 or Jessie Baker, Winooski City Manager: jbaker@winooskivt.org / 802 655 6410
BACK TO TOP ⇑