Advanced Traffic Monitoring System
The Chittenden County Regional Planning Commission (CCRPC) and Vermont Agency of Transportation (VTrans) will implement corridor level Bluetooth (BT) monitoring devices deployment on five corridors in Chittenden County to establish real time traffic monitoring and management systems information which will be utilized by the VTrans Advanced Transportation Management System (ATMS) and Traveler Information System (TIS) for 511 through the State Traffic Operations Center (TOC). This BT monitoring deployment will provide the opportunity to deliver real time traffic monitoring and communication (through the VTrans TOC, ATMS, and TIS) including travel times, average travel speeds, start of congestion, and crash avoidance areas – enhancing safety, mobility, reducing congestion and congestion-related vehicle emissions in the region.
---
Study Corridors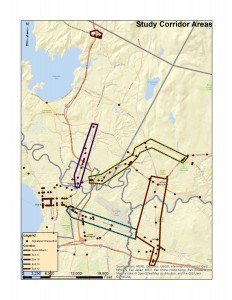 US 2/Williston Road/Main Street from University Heights to Industrial Avenue – Burlington and South Burlington
VT 15 from Exit 15 to Susie Wilson Road and VT 289 – Colchester and Essex
US 2/VT 2A from Exit 12 to Five Corners – Williston and Essex Junction
US 2 at Exit 17 – Colchester
US 2/Main Street from Barrett Street/Riverside Avenue to Severance Road – Winooski and Colchester
---
final plan implementation
CCRPC, in collaboration with VTrans, has implemented the final plan which included 33 Bluetooth Sensors strategically installed at key locations (intersections) along the 5 study corridors listed above.
Currently, the advanced traffic monitoring system with Bluetooth sensors is under monitoring and testing phase.  Real-time travel information has been gathered for various engineering and planning studies, individual case studies and work zone safety studies and other daily traffic operations monitoring and performance measures. Click the link below to view travel times and speed data along the pilot corridor:
---
Real-Time Travel Data
Interested parties can download and use historical and real-time travel data from the Bluetooth readers using the web-based application, BlueArgus. This application provides the user with access to non-personal travel information captured by Bluetooth sensors along the study corridors. Users interested in accessing the real-time travel data have to acknowledge and agree to the "Data User Disclaimer" terms and conditions (below) and submit a request via email to the CCRPC (traveldata@ccrpcvt.org). Within seven (7) business days upon receiving a request, users will be provided with login details for the application. Please note that the real-time travel data are exempt from discovery or admission under 23 U.S.C. 409.
Instructions for Receiving Data: Please complete the fillable form below and send it via email to traveldata@ccrpcvt.org.
---
Questions & Contact
For more information, please contact Sai Sarepalli: (802) 846-4490 ext. 116