Exit 12 Scoping Study
This study has been completed. View the Final Report »
Following Governor Shumlin's announcement in May 2011 that the Circumferential (Circ) Highway as originally conceived will not be built, a CIRC Alternatives Task Force was formed to identify alternative projects and planning activities to address the region's transportation issues. One of the major planning activities undertaken was the Williston-Essex Network Transportation Study (WENTS). The focus of the WENTS Project was to develop multimodal strategies that enhance corridor mobility and safety, improve access to major employment and retail centers, and support land use goals of the municipalities of Williston, Essex, and Essex Junction.
The WENTS findings and recommendations, which were formally adopted by the CIRC Alternatives Task Force in January 2013, specifically cited the Exit 12 & VT 2A Project as a key network improvement within the region. A re-configured interchange at I-89 Exit 12, in association with new local roads connecting VT 2A (between Exit 12 and Marshall Avenue) with the major retail centers in the area was seen as generating significant mobility benefits for the study area as a whole.
The Exit 12 Project further investigates and refines transportation alternatives that address existing and projected traffic congestion in the study area (see map below); enhance safety for all users; improve bike-pedestrian connections from areas south of the interchange to the existing network north of the interchange; and advance economic growth in the area.
SEE BELOW FOR MORE INFORMATION ON:
STUDY AREA »
PUBLIC PARTICIPATION »
DOCUMENTS »
COMMITTEES »
ADVISORY COMMITTEE MEETINGS »
CONTACT »
---
Study Area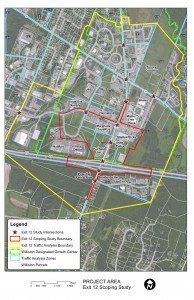 ---
Public Participation
Public Meeting # 3 – October 21, 2013
Public Meeting # 2 – October 1, 2013
Public Meeting #1 – June 4, 2013
---
Documents
Exit 12 Project – Scope of Work and Schedule:
---
Committees
An Advisory Committee was formed to provide general oversight and policy direction for this project.
The committee was comprised of the following representatives:
Meredith Birkett, Planning & Marketing Director, CCTA
Time Baechle, Manager of Energy, Environmental , IBM Burlington
Amy Bell, CCMPO Planning Coordinator, VTrans
Ken Belliveau, Planning Director & Zoning Admin, Town of Williston
Michele Boomhower, Asst. Director/MPO Director, CCRPC
Frank Cioffi, President, GBIC
Bruce Hoar, Town of Williston
Chris Jolly, Planning & Programming Eng., FHWA
Kevin Morton, Fire Chief, Town of Williston
Jeff Nick, President, JL Davis Realty
Ken Robie, Highway Safety & Design Program Mgr, VTrans
Josh Schultz, Traffic Design & Safety Project Mgr, VTrans
Todd Shepard, Chief of Police, Town of Williston
Karen Sidney-Plummer, General Manager, RPAI US Management, LLC
Jason VanDriesche, Director of Advocacy & Education Programs, Local Motion
James Whitcomb, Williston Station Commander, Vermont State Police
---
Advisory Committee Meetings
Advisory Committee Meeting # 3 – September 5, 2013
Advisory Committee Meeting # 2 – July 11, 2013
Advisory Committee (Kickoff) Meeting # 1 – April 19, 2013
---
Contact
For more information, please contact Eleni Churchill, CCRPC Transportation Program Manager, at (802) 846-4490 x *11.